Born and raised in Paris I have always been into cooking and enjoying a great diner with friends and family. I decided to switch from consulting to professional cooking shortly after moving across the pond. I then graduated from the French Culinary Institute and I have been trained in top notch restaurants such as l'Ecole and Aquavit.
"Crazy French girl coming all the way to New York to learn how to cook…French cuisine": Totally assumed!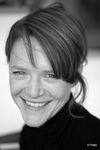 I'm thrilled to share my passion for food and my experience as a personal chef with New York foodies, families fed up with too rich take away food and simply, anybody willing to eat healthy, fresh and flavorful food in the comfort of their home sweet home.
My cuisine is mainly inspired from French recipes but travels opened my heart and palate to flavors coming from all over the world. Just let me know what you like and I will cook it!
I love to cook from scratch and use wholesome and seasonal ingredients. I have a large experience cooking for kids and under food restrictions (allergies, diet…) for my clients as well as for my own family (having a child and a very allergic husband!).
You will find examples of services and menus in this website. Please do not hesitate to send me emails or call me if you want more information. I will be more than happy to discuss any specific need with you.
A bientot.
Sophie
Telephone: +1 (917) 783 9687
Email: srioult@hotmail.com