Tasty, freshly made to order, customized to your needs and…SO CUTE, "bite boxes" are the perfect finger food treats for you next party.
Beautifully wrapped for gift-giving, boxes can be picked up for free (Upper West Side/Natural History Museum) or delivered for a $15 fee (Manhattan only)

Savory boxes
Mini quiches, mini croque-monsieur, prunes wrapped in bacon, mini pesto and goat cheese palmiers, comte gougeres, pig in a blanquet and more.
Sweet boxes
Mini strawberry tarts, mini chocolate tarts, mini lemon bars, mini cheese cakes, mini pistachio financiers, coconut macaroons and more.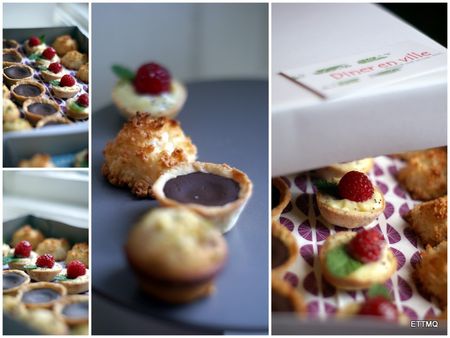 « Oh mon Chou! » boxes
Adorable puffed pastries stuffed with delicate vanilla pastry cream.